Taylor & Francis Africa was established in 2007 with the aim of supporting and advancing African scholarship. We work closely with local institutions, societies and funders to boost the creation and global dissemination of African research. With an ethos of working in partnership, our long-standing co-publishing partnerships with Unisa Press, Medpharm, and NISC (Pty) Ltd allow us to utilise local publishing networks and build on regional expertise.
Get to know us
Our Cape Town office is staffed by 6 team members working across editorial to production, including: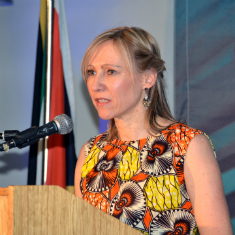 Global Portfolio Director
"With an African Studies academic background and 20 years of publishing experience, I am dedicated to global South scholarship and pioneering partnerships."
Head of Researcher Services & Networks
"Our aim is to facilitate the dissemination of African scholarly research, while supporting African researchers and society partners, and maintaining a sustainable and thriving publishing environment."
Publishing Systems Editor
"I'm proud of the work we do to support up-and-coming African scholars and promote African research internationally, while drawing on local expertise and research networks and partnerships."
Discover more about the Cape Town office
Together with our partners, we publish over 70 journals from Africa, including open access titles and options across all subject areas. We are committed to facilitating research access in Africa and to supporting the growth of African authorship.
Our Special Terms for Authors & Researchers (STAR) programme is a unique Taylor & Francis initiative developed to provide authors and researchers in emerging regions with free access to all research content on Taylor & Francis Online. Find out more, or register today.
Follow us on Twitter for the latest updates @Tandf_Africa